Liana Rebollo On Negotiating at Work In Corporate America
May 03, 2022
Season 1: Episode 12
In the twelfth episode of Hey Awesome Girl with Tivi Jones, you'll meet Liana Rebollo, Senior Counsel of Corporate Governance and Securities at Wells Fargo. Liana shares her experience learning to negotiate for herself in the corporate world.
As an immigrant, Liana Rebollo was given two choices by her family–either to become a doctor or a lawyer. She chose the latter. It's a tale as old as time for many children of immigrants.
Liana was 11 years old when she immigrated to the U.S. with her parents in 1995. She has been a resident of Charlotte, North Carolina since 1996. In 2006, she graduated from UNC-Chapel Hill then spent two years in New York working as a corporate paralegal at Paul, Weiss, Rifkind, Wharton & Garrison LLP. Then she attended UNC School of Law and graduated in 2011. Liana began her legal career at Robinson, Bradshaw & Hinson, P.A.
Over time, Liana's definition of success changed and she realized that working for a big law firm may not be for her. In this episode, she talks to Tivi about her intersectional identity, career, negotiating at work, stepping into discomfort, and the importance of mentorship.


GETTING STARTED
Why do immigrant parents only want their children to become doctors or lawyers? In most cases, their idea of success is tied to money or at least having enough. But as we know, money doesn't always bring happiness. Liana's parents, like many immigrants, told her to choose between a career in medicine or law. She said, "Well, I'm not cutting anybody open" and chose law. Liana always excelled academically and was interested in English language, history, and literature, so law school seemed like a natural next step after college.
After graduating from UNC-Chapel Hill, Liana went to New York and got a job as a corporate paralegal at Paul, Weiss, Rifkind, Wharton & Garrison LLP. She quickly learned she liked the fast-paced corporate world full of mergers, acquisitions, and deals. Liana says taking the LSAT and getting into law school felt like ticking off one of her "path to success" boxes.
As an immigrant, she felt like she had to prove something to herself. Her definition of success was working at a prestigious law firm and making a lot of money. But it wasn't until she had achieved all of it that she realized something was missing. She was working as an attorney at Robinson, Bradshaw & Hinson, P.A. when the idea of making partner in seven years didn't seem so appealing anymore.
Liana lost her happiness while chasing success.
During the last year and a half at the firm, she felt miserable. She was also starting a family and was pregnant with her first child, which put things in perspective for her. " I was like 'oh, this might not fit my personality and where I want my life to be,'" she says.
It was a hard pill to swallow for Liana and she had to change her definition of success. But she took action and looked for another job in-house. That's how she ended up at Wells Fargo bank, where she works as Senior Counsel of Corporate Governance and Securities. Initially, she had to take a pay cut, but it was worth it in the end.
"This is why I tell people to listen to their gut. I've been at Wells Fargo for five years now and I'm happier than I've ever been in terms of my career. I'm compensated the way I feel I should be, am valued by my team, and I like the work that I do. It took a while to get there, but the sacrifice that I made by listening to my gut paid off," Liana says.
NEGOTIATING
The transition to a new job wasn't easy. Liana had to leave her place of employment and find a job while pregnant.
"The reality of the United States is that I didn't have full paid maternity leave because I was a new employee. It's a shame because we shouldn't have to make decisions based on whether you're pregnant or not or plan to be," Liana says.
The way she found her way around this financial challenge was through negotiation.
"I said 'look, I'm taking a pay cut but I need you to give me a signing bonus because I'm going to go on maternity leave," Liana recalls.
It took courage for Liana to negotiate as a new employee because there are so few women of color in law and they face additional challenges.
According to the 2018 Vault/MCCA (Minority Corporate Counsel Association) Law Firm Diversity Survey, women of color account for 14 percent of associates but only 5 percent of non-equity partners and a mere 3 percent of equity partners.
"Some experiences of women of color are the same; some are not. They have to deal with both: being a woman but also people of color. Women of color are not given the same opportunities as white women," Eileen Letts, a partner at Zuber Lawler and Del Duca LLP in Chicago and one of the study's co-authors, tells American Bar Association.
Liana says she's always going to be one of the few women of color at work and there's a pressure to not "rock the boat" when negotiating. However, she says she got her confidence from other women of color who were a few years ahead of her in their careers. "You need that kind of cheerleading squad to tell you it's going to be okay and you can demand what you're worth and negotiate for yourself and feel like you're entitled to it," she says.
How did Liana become comfortable negotiating?
"First of all, it's not comfortable. It's not going to be. Step into the discomfort," Liana says.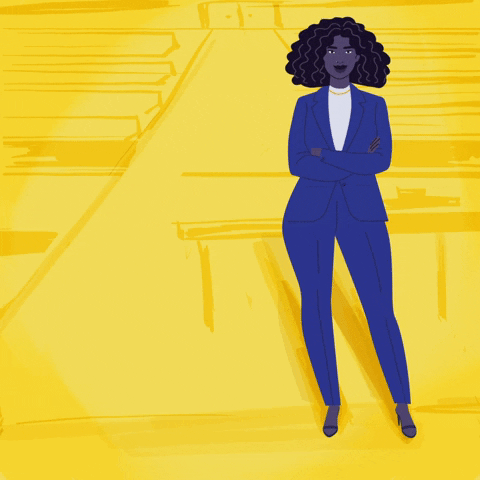 She admits that so much of her impetus for negotiating is fueled by anger, which comes up when she feels someone is trying to lowball her because she's a woman. She says women still need to be professional, articulate, and able to communicate clearly what their needs are and what they have to offer for value, but that they need to stand up for themselves. "We need to listen when our gut and body are having a visceral reaction to how somebody's treating you."
As a child of immigrants, she was told not to speak unless she was spoken to and not to complain. So throughout her childhood and teenage years, that's what she did. "Communication is a new skill that you have to learn as an adult," she says.
INTERSECTIONALITY AT WORK
As a woman of color, an immigrant, and a parent of bi-racial, Black-presenting children, Liana lives with many intersectionalities. She discusses how her intersectional identity shows up at work.
First, she says, there's a tremendous amount of pressure to be excellent. "You can't be average and you have to get comfortable with it. The key is to be able to balance that pressure with your own needs and your own happiness," she says.
When Liana first shows up to work, the first thing she reminds herself is that she's not only representing herself, but also other women who look like her.
"99.9% of the time, I'm the only female on the call. I'm the only female attorney. I'm the only person of color or both. So much of the first few years of a job is proving that you can be trusted, that you know what you're doing, delivering, and sometimes overdelivering when you have to," Liana says.
She says the lack of diversity is glaring in the corporate world. It has gotten a little bit better, at least at Wells Fargo, because the company has intentionality when it comes to hiring, putting board members in seats, and hosting diversity calls and initiatives. But it's still a long way to go.
Liana is part of a diversity and anti-racism panel at work and she's vocal during difficult conversations.
"I recognize that there's still a privilege being an Asian woman versus being an African American woman. So on these panels, I notice that my colleagues who are African-American are more reserved, or very careful about their verbiage and how they deliver the message. So then I step in and say 'this is what they mean,'" Liana says.
It's nerve-wracking to have these discussions at work, but after Trump's presidency, Liana feels an obligation to speak up. "I'm either going to show up, be present and be my authentic self or I'm not. If there's a contribution I can make, I will," she says.
While fostering meaningful conversations about diversity and intersectionality with her colleagues, Liana has created meaningful relationships. In the past, she says she kept her personal and professional lives separate. But now, she's vocal about how these two intersect and about the issues she's passionate about.
MENTORSHIP
Early on in her career, through a college internship program, Liana found a mentor, a woman of color, who works in corporate America. Now her mentor's daughter, a student at Dartmouth, is Liana's mentee. It has come full circle.
Liana stresses the importance of mentorship. "It's crucial," she says, and gives advice on how to foster a mentor-mentee relationship.
First, she says it's important to reach out to your mentor on a regular basis and to seek their advice. She's known her mentor since she was 19 years old, and both of them regularly check in with each other. "The key to that type of relationship is to be vulnerable and tell this person what you're going through. If you're not tuned into that, it's hard to have a trusting mentor-mentee relationship," Liana says.
She notes that the mentor doesn't even have to be someone in your field or someone who's older than you. They can just be someone with a bit more experience than you. She highlights the difference between the definitions of a mentor and a sponsor.
"A mentor is somebody who you can go to about your personal life, relationships, your job. A sponsor is somebody who can be in rooms where you're not, and when they're in those rooms, they are happy to say your name and happy to pull up a chair to bring you in. Those are people with access to places that we don't have access to and they tend to not look like us. And that's where I've had to really push myself because I'm not hanging out with Bob after work," Liana says.
She says it's harder to find a sponsor than a mentor, especially because there are so few women of color lawyers and, during the pandemic, people have been mostly working from home. "Maintaining these relationships is even harder than finding them, but it's an investment in yourself. It's like dating," she says.
PLEASURE EASE AND ABUNDANCE
Liana's husband is a surgeon and they have two small kids and two dogs to look after, so finding life-work balance is hard. Her focus is on areas that are lacking at the time–whether that's at work or at home. Liana has certain rituals that she does to feel like herself, which include spending time with her girlfriends, getting a monthly massage, and going on a five-day trip with her husband at least once a year. But most importantly, she has to constantly try to not judge herself.
"There's this constant dialogue in the back of my mind telling where I'm failing. And so much of creating ease in my life is learning how to turn off that voice, or at least mute it a little bit," Liana says.
Liana doesn't like to cook but sometimes feels that she needs to be making home-cooked organic meals for her kids every day. It's not like there's someone in her house patrolling her on how good of a mom she is, so where does that voice come from? Her childhood. Liana thinks older generations used to measure success by how much adversity they could overcome and how well they could do it. But times have changed, realities have changed, and context matters. Getting out of that judgemental mindset takes a lot of therapy and journaling. At the end of the day, it's about getting comfortable and shaping a reality that fits you and your needs.
Enjoy the full episode on:
Every week Tivi interviews amazing Boss Babes in tech, medicine, law, entrepreneurship, entertainment, parenting, and more about their lives, goals, and how every day, they are working to add more Pleasure, Ease, and Abundance in their orbit.
This show is part business advice, part life coaching, and part real talk with girlfriends. If you're looking for a show that's real and relatable but also inspiring at the same time, Hey Awesome Girl with Tivi Jones is the one for you!
---
Learn more about Liana:
Featured in this episode:
---
Demi Vitkute is a Media Manager & Producer at Hey Awesome. She's a passionate storyteller, fashion aficionado + crazy cat mom trying to change the world. She's a journalist, editor, and media consultant. Demi is the founder of The Urban Watch Magazine and has written for The Washington Post, Inside Hook, and Promo Magazine, among others. You can follow her on IG and Twitter @demiivit.